The Week of Unown – The Enigma Week is now live, bringing Unowns in Raid Battles, new Raid Bosses, Increased Mysterious Pokemon Spawns, Egg Hatches, Event Themed Research Task and New Wild Shinies.
Event Date: Friday, August 7, 2020, at 1:00 p.m. to Friday, August 14, 2020, at 1:00 p.m. PDT (GMT −7).
We've also updated the Egg Hatch List, Raids list, Research Task in the GO Field Guide App – Support GO Field Guide on Patreon ❤️
New Shiny Pokemon 🌟
This week has brought a lot of New Shiny Pokemon
Staryu Shiny Family
Deoxy Normal Shiny
Unown U,L,T,R,A Shiny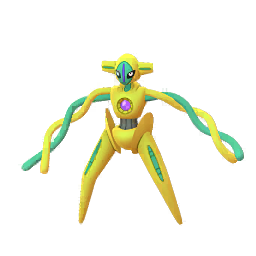 Note: For a limited time, Trainers might encounter Shiny Unown! It seems these Shiny Unown will go back into hiding after Enigma Week is over.
New Pokemon Debut
Elgyem the Mysterious Pokemon has made its way to Pokemon GO Increased Spawns
Mysterious Pokemon have now come out in the surrounding, Pokemon like Staryu, Jigglypuff, Beldum and Elgyem are very common during the event.
Staryu
Jigglypuff
Clefairy
Solrock
Lunatone
Baltoy
Bronzor
Elgyem
Beldum
Regional Hunters, Solrock and Lunatone are spawning globally!
Eggs 🥚
Probably you won't buy a lots of incubators this week!
Following Pokemon will be hatching from the 7KM Egg:
Cleffa
Igglybuff
Lunatone
Solrock
Elgyem
Staryu
Raids
Deoxys Normal Forme have joined the Raid Battle, Remember to use Dark and Ghost-type Pokemon against Deoxys 😉
| Tier | Raid Bosses |
| --- | --- |
| 1 | Clefairy, Jigglypuff, Klink, Staryu |
| 2 | Unown (U, L, T, R, A), Solosis, Elgyem, Gothita |
| 3 | Claydol, Lunatone, Solrock |
| 4 | Bronzong, Togetic, Metagross, Alolan Marowak |
| 5 | Normal Form Deoxys |
Here's the list of few Recommended counters for Deoxys.
We've also updated the Raids list and its counter in the GO Field Guide App.
Event Themed Research Task
Spinning a Pokestop can drop one of the Events Themed Research Task.
| Task | Reward |
| --- | --- |
| Win a Raid | Staryu |
| Make 3 Curveball Throws | Baltoy |
| Catch 3 Psychic-type Pokémon | 1 Rare Candy |
Credits – TheSilphRoad
Do you know?
You can check-out the Countdown Timer of all Events at our All New Mobile App GO Field Guide for all Countdown Timers, Raid Boss Guides, Egg Hatch List, Shiny Checklist and much more…
Available for both Android and iOS
iOS – App Store
Android – Google Play Store
Feel free to ask anything else you may want to know. If we can't answer them, maybe someone else reading can. Let us know in the comments below and join the discussion on our Pokemon Go – WorldWide Niantic News Update Facebook Group!
Make sure to Join our PokeWreck community for all latest news, updates, leaks and research: