Trainers, something strange is going on with Pokemon GO's Social media account!
The two recent images released on the Social media accounts show some type of Green Paint brush effect which hints towards the long overdue Generation 2 Painter Pokemon
The Phenomenon started to happen on 7th February when this image mentioned below, featured an AR photo of Spoink for Lunar Event 2019 but along with some green paintbrush effects!
At first we considered this as just green splatters, but the suspicion raised when
Pokemon GO's official Facebook and Twitter accounts used this image as the Banner
Why this Green Paint Brush Effect raised hints towards Smeargle?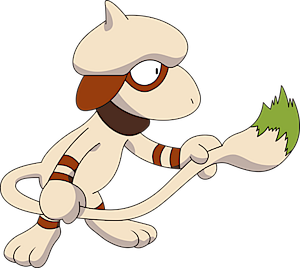 Smeargle a Generation 2 Pokemon is long overdue in Pokemon GO
Smeargle is associated with art
Smeargle's tail tip (brush) is usually depicted green, which is the color used on the vandalized social media images
Few months back there was a famous IGN PvP video which leaked Smeargle's PvP Fight