Trainers, New Year Started and Niantic is back with surprises, A new feature called Trade Evolution is now live in Pokémon GO!
Additionally, 35 new Unova region Pokémon have been released into the world of Pokémon GO, some of which will benefit from the addition of trade Evolution too!
We've also updated the Egg Hatch List, Raids, New Unova Checklist and Regional list in the GO Field Guide App – Support GO Field Guide on Patreon ❤️
Trade Evolution
Trade Evolution is a new Mechanic which will allow you to evolve certain traded Pokemon with no Candy cost to evolve them.
Which means ZERO Candy to evolve them!
Current List of Eligible Pokemon:
GOOD NEWS: If you received one of these Pokémon in a trade in the past—congratulations! That Pokémon will retroactively qualify for no Candy cost when you evolve it.
New Unova Region Pokemon
Along with the Trade Evolution, Niantic Released 35 New Unova Region Pokemon, The New Pokemon have already started appearing in the Wild, Raids, Eggs!
Here's the complete list:
In the Wild
Beware in while walking, This is the list of New Gen 5 Pokemon which are started appearing in the wild!
| | | |
| --- | --- | --- |
| | | |
| Roggenrola | Tympole | Dwebble |
| | | |
| Trubbish | Karrablast | Joltik |
| |   |   |
| Shelmet |   |   |
Ad: Light up the streets and show your support to your favourite Pokemon GO Team by trying this cool Embroidery Glow in the Dark Hats!

Free Delivery ✈️ Use Coupon Code: WRECK15 for additional 15% Off

Shop Now: Visit Here
In Eggs
Below is the list of New Gen 5 Pokemon started hatching from Eggs.
2 km Eggs

Venipede

Dwebble
5 km Eggs

Roggenrola

Tympole

Trubbish

Karrablast

Joltik

Shelmet
10 km Eggs

Timburr

Tirtouga

Archen

Axew
In Raids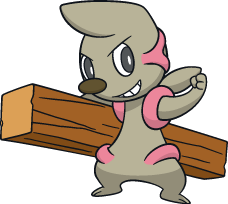 New Unova Region Pokemon Timburr is now appearing in Tier 1 Raids.
New Regional Pokemon
Pokémon appearing in the wild in certain parts of the world:
| | |
| --- | --- |
| North America, South America, and Africa | Throh |
| Europe, Asia, and Australia | Sawk |
| Southern United States, Mexico, Central America, the Caribbean, and South America | Maractus |
| Egypt and Greece | Sigilyph |
| Eastern Hemisphere | Red-Striped Form Basculin |
| Western Hemisphere | Blue-Striped Form Basculin |
Do you know?
You can check-out the Countdown Timer of all Events at our All New Mobile App GO Field Guide for all Countdown Timers, Raid Boss Guides, Egg Hatch List, Shiny Checklist and much more…
Available for both Android and iOS
iOS – App Store
Android – Google Play Store
Feel free to ask anything else you may want to know. If we can't answer them, maybe someone else reading can. Let us know in the comments below and join the discussion on our Pokemon Go – WorldWide Niantic News Update Facebook Group!
Make sure to Join our PokeWreck community for all latest news, updates, leaks and research: